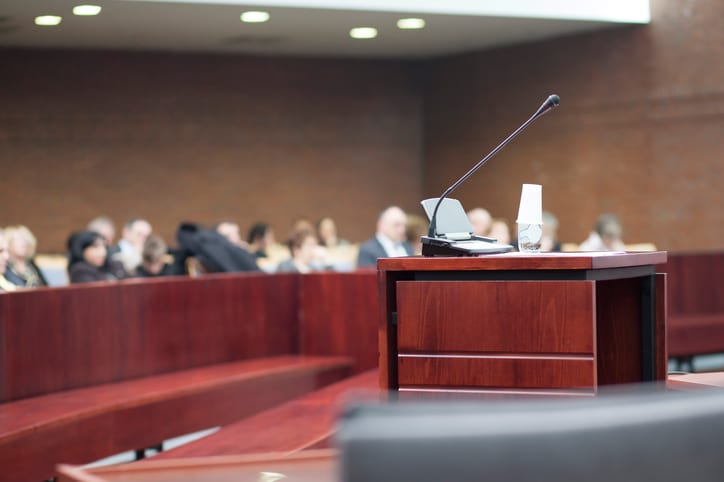 EEOC Reconvenes Expert Task Force Against Workplace Sexual Harassment
The #MeToo and #TimesUp movements have drawn the nation's attention to the prevalence of workplace sexual harassment. Now the Equal Employment Opportunity Commission (EEOC) has taken notice. It has reconvened its expert task force, first formed in 2015, to develop strategies to fight back against workplace sexual harassment.
In this blog post, I will discuss the work of the EEOC's Select Task Force on the Study of Harassment in the Workplace. I will review the laws protecting employees from discrimination and harassment at work, and I will discuss previous actions by the task force to prevent workplace sexual harassment.
Workplace Sexual Harassment and Gender Discrimination Account for Nearly 1/3 of EEOC Complaints
Workplace sexual harassment and gender discrimination have been against federal law since Congress passed Title VII of the Civil Rights Act of 1964. The law make it illegal for employers to make employment decisions based on a person's sex or gender. When unwanted sexual advances occur in the workplace, the law says employers are required to take reasonable steps to stop and correct the conduct.
But simply having these laws on the books does not ensure a safe space for workers of all genders. That requires diligent enforcement. In 2017, the EEOC received 25,605 complaints related to sexual harassment and gender discrimination — over 30% of all the agency's cases. That percentage has been consistent since 1997, even as the total number of complaints has varied over time.
2015 Task Force Asked How to Enforce National Anti-Discrimination Laws
In 2015, in response to the challenges in enforcing anti-discrimination laws and preventing workplace sexual harassment, the EEOC put together a Select Task Force on the Study of Harassment in the Workplace. The Select Task Force was chaired by EEOC Commissioner Chai Feldblum and current Acting EEOC Chair Victoria A. Lipnic. Over the course of 18 months, this 16-member panel received testimony from over 30 witnesses and numerous public comments. Insights came from across the country, including testimony from social scientists, sociologists, psychologists, investigators, workplace trainers, lawyers, employers, and employee advocates. At the end of the investigation, the Select Task Force released its findings:
Workplace harassment remain a persistent problem
Three out of four victims of workplace sexual harassment don't file a formal report
Businesses and workers benefit from preventing harassment, instead of simply avoiding litigation
Anti-harassment initiatives must start at the top and include accountability for management
Training needs to be focused on workplace culture and be tailored to each workplace
"Bystander intervention" and "civility training" methods may work better than other training alternatives
A nationwide "It's On Us" initiative may be necessary to empower the victims of harassment
#MeToo and #TimesUp Movements Raise National Awareness
As it turned out, that nationwide push to for change in workplace culture didn't happen because of a government-funded initiative. Instead, it came from social media. In late 2017, the hashtags #MeToo and #TimesUp filled Twitter, Facebook, and other social media platforms with the stories of sexual harassment survivors. They called for change in some of the biggest companies in the country, and in the federal government. And they drew attention to the long-buried truth that workplace sexual harassment can happen in any industry, and at any level within the corporate structure.
EEOC Reconvenes Its Special Task Force in Response to Public Demand
The EEOC responded to the public outcry for accountability by announcing that the Select Task Force on the Study of Harassment in the Workplace would be coming together again on June 11, 2018. The meeting was called "Transforming #MeToo into Harassment-Free Workplaces" and was open to the public. EEOC Commissioner Chai Feldblum said:
"Our challenge is to use this #MeToo moment well. We have a road map given the work we have done at the EEOC. We have the attention and commitment of the range of different actors in society that we need. Together, we can channel that energy to create significant and sustainable change."
The meeting brought together 8 panelists — all women — who spoke on different aspects of the problem, as well as potential solutions:
Elizabeth Tippett, of the University of Oregon School of Law, addressed legal issues and warned against responding solely to sexual harassment in the legal sense. She said "In doing so, [state legislators and employers] risk laying a foundation for the next crisis, whether it involves other forms of harassment, or discrimination and retaliation."
Debra Katz, of Katz, Marshall and Banks, showed how legal defenses and loopholes within Title VII and state laws allow workplace sexual harassment to continue, at great cost to the individuals facing it on the job.
Kathleen McKenna, of Proskauer Rose, who represents employers, spoke about the use of arbitrationand non-disclosure agreements to reduce litigation of sexual harassment complaints.
Suzanne Hultin, with the National Conference of State Legislatures, talked about the legislative efforts at the state level to move "beyond federal regulations to prevent workplace sexual harassment."
Jill Geisler, of the Newseum's Freedom Forum Institute, described the Power Shift Project being used by media organizations and newsrooms to address sexual misconduct.
Kasey Nalls, of the union UNITEHERE, described the hospitality industry's "Hands Off Pants On" campaign to protect hotel workers from sexual harassment.
Erin Wade from the restaurant Homeroom, demonstrated the color-coded alert system they developed for wait staff and managers to address harassing conduct by customers and create a safe workplace for staff.
Jess Ladd, of the non-profit Callisto, explained the online reporting and documentation platform her organization had developed to match victims of similar sexual harassment incidents together and connect them with legal advocates.
Lisa Gelobter, of tEQuitable, described her company's independent platform to proactively address issues of bias, discrimination and harassment at work.
The Task Force also heard from other legal scholars and attorneys, and from an unnamed panelist who discussed strategies for employers and unions to promote harassment-free workplaces. All the panelists provided written statements, which are available on the EEOC's website.
If the work done by the Special Task Force in 2015 is any indication, it may be some time before the public sees a result from the meeting and the witnesses' testimony. But the hope is that by meeting publicly, and publicizing the witnesses' statements, employers, unions, and employee advocates can start pushing for changes now that could prevent workplace sexual harassment in the future.
At Eisenberg & Baum, LLP, our experienced gender discrimination and sexual harassment attorneys have decades of experience protecting the civil rights of women, minorities, and workers facing workplace sexual harassment. We use informal negotiation, arbitration, and traditional Title VII litigation to advocate for innovative prevention strategies to protect our clients and make their offices and work sites better places to work. Contact us to schedule a consultation.
https://www.eandblaw.com/wp-content/uploads/2018/09/iStock-499985443.jpg
482
724
eandb
https://www.eandblaw.com/wp-content/uploads/2022/09/eandb-logo.png
eandb
2018-09-17 10:35:40
2022-05-30 21:07:39
EEOC Reconvenes Expert Task Force Against Workplace Sexual Harassment